« Medieval Times MEDI-A day at Chapel Creek Ranch | Home | Thank-you for your support! »
By Laurie | October 8, 2013
The wonderful people at Chevy invited me to the State Fair of Texas again this year. We had the opportunity to join them at the Test Track for Chevy After Dark.
The track had changed a little bit from previous years, and actually included a new one for the Silverado pickup too. We were instructed to take our hands off the wheel and even drove up a huge ramp with the Texas Star lit up as the backdrop. It was definitely a good time!
We also drove a new Corvette, but we couldn't ride together since there had to have a Chevy co-pilot in order to drive one of these. They are definitely a pretty car (and super low to the ground), but if I had to choose I'd probably go with the truck which is a big surprise to even me!
They also had a breast cancer Camaro Pace Car on display, so of course I couldn't resist a quick photo opp with it on the way out.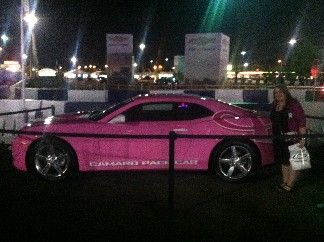 Thanks again to Chevy for this fun experience. Hope to see you again next year!
Disclosure: I was not monetarily compensated for this post. I did receive complementary access to this event and a gift of tickets/coupons to return to the State Fair of Texas on a different day.
Topics: #ChevyGirls | 1 Comment »