« Dishwashing made simple with Cascade Platinum #MyPlatinum | Home | Chevy After Dark at the State Fair of Texas »
By Laurie | June 23, 2013
A few weeks ago Medieval Times invited Dave and I to a media and press day at their ranch in Sanger to celebrate the 30th birthday of the company. It's no secret the Dallas castle is among my very places to visit with friends and family in the area, so I was thrilled to get a behind the scenes tour of both the ranch as well as the castle itself.
We started the tour by meeting at the castle and were greeted by King Carlos and Princess Catalina themselves, as well as trumpeters and a chartered party bus that drove us to the ranch in Denton County. It was a rainy day, but squires with flags lined the driveway to welcome us, as did many of 350 beautiful horses who call Chapel Creek Ranch their home.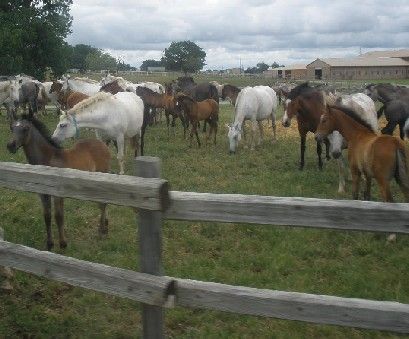 We were treated to a wonderful barbeque meal and even a few items from their new vegan menu. I tried the new Three-Bean Vegetable Stew and it was delicious and filling. I love the traditional tomato soup, chicken and ribs meal, but I could definitely change it up and chow down on some stew next time we visit.

The new vegan meal also includes Fire Roasted Tomatoes served with pita, raw veggies and hummus. I am sure that their vegan customers will appreciate the alteration to the traditional menu too.

After lunch we walked across the property with the horses to the arena where we were introduced to the head knight, Crew Wiard, and head horse trainer, Javier Ortiz.
We were given a live fighting sequence demonstrations from the knights and learned about the different types of weaponry used during battle. Did you know that each knight must pass a physical fitness test and train a minimum of six months before he is able to perform in an actual show?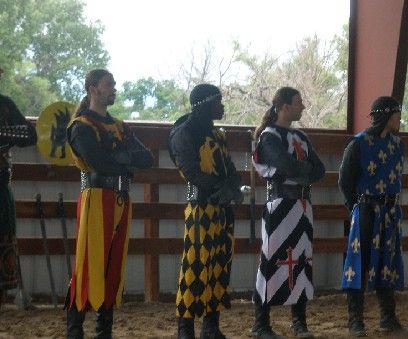 We also viewed a riding demonstration from Victor Lara, the director of Equestrian Management and the execution of a capriole by Javier Ortiz and one of the magnificent horses. We were also introduced to several of the youngest members of the Medieval Times family, some of this Spring's 22 new foals born on the ranch.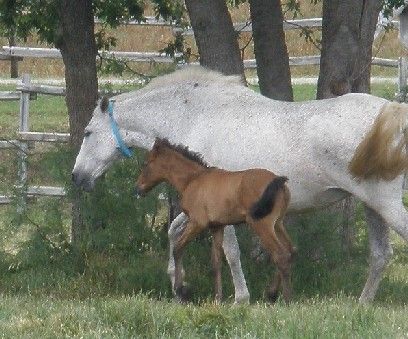 We ended the day after arriving back at the castle with an exclusive tour of the backstage area, a question and answer with the castle's falconer, and a tour of the stables and kitchen. Have you ever wondered how Medieval Times Dallas is able to serve up to 300,000 four-course meals each year (1,000 meals each performance) simultaneously without skipping a beat? We now know their secret.
It was such a fun and magical day and definitely made me wish I had a job at Medieval Times. Everyone is so passionate about what they do, and it is truly contagious. Thanks to Jon Speier, Senior Vice President of the Dallas castle (and of course King Carlos) for the invitation and wonderful experience.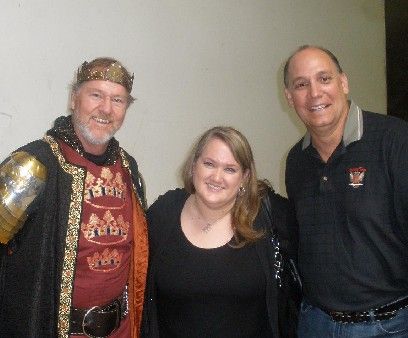 Disclosure: I was not compensated for this post, however I did receive a gift bag at the event with promotional items and tickets to return to Medieval Times for a future performance.
Topics: Entertainment | No Comments »