« Hanes and Komen join together to fight breast cancer | Home | 2010 North Texas Race for the Cure »
By Laurie | May 13, 2010
Over the weekend Dave and I drove to Houston to participate in the Breast Cancer Network of Strength Walk to Empower. I was selected by Bumble Bee as the local regional ambassador. It was definitely an honor considering all of the amazing stories submitted by women all over the country.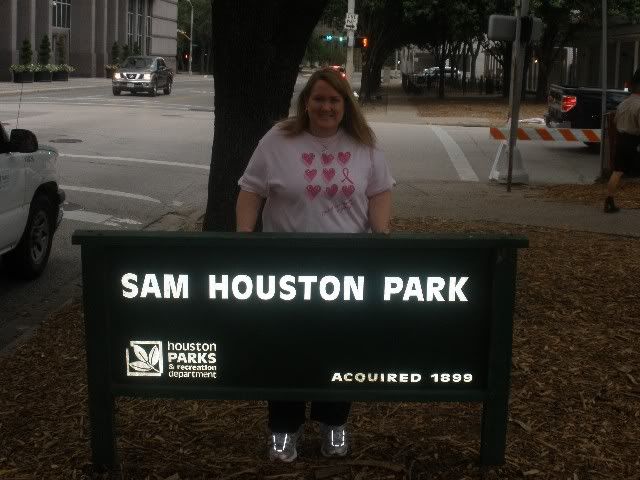 At 7:00 AM we walked from our hotel downtown to Sam Houston park which was a little over a mile away. It was a really pretty overcast morning– the perfect day for a walk! We stood in the registration line to pick up our race bibs.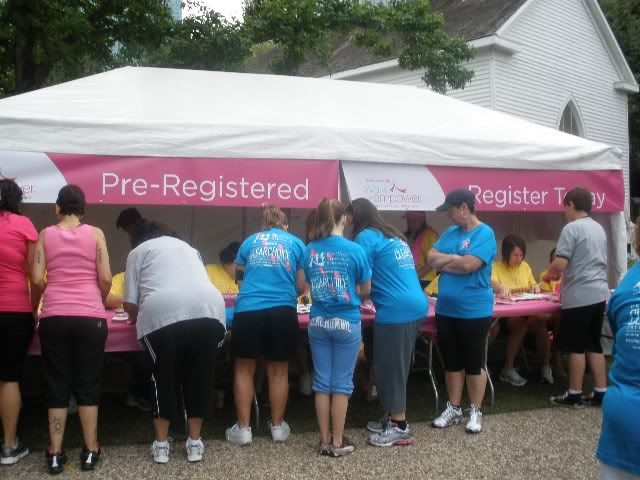 After that, I introduced myself to the volunteers at the Beewell for Life booth. They were passing out buttons so that participants could write the name of the person they were walking for, as well as giving people the opportunity to enter a sweepstakes for an iPod Touch among other prizes.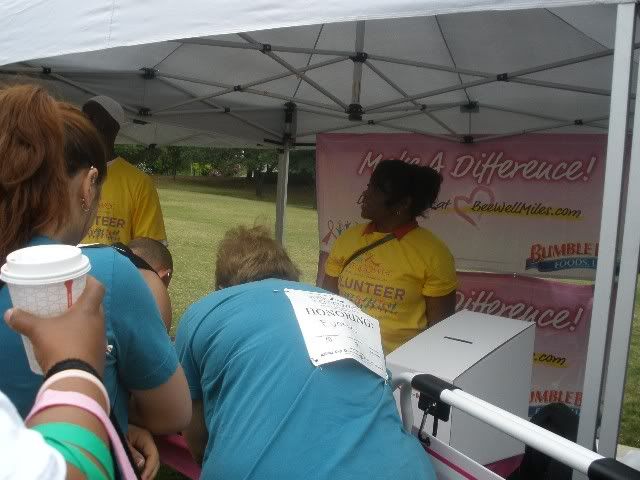 Dave and I asked to take some bags of buttons and sweepstakes notepads and walked around the park talking to walkers about the program. Did you know that Bumble Bee donates 15 cents to the Network of Strength for every mile you walk, run or bike? We met some really amazing people too.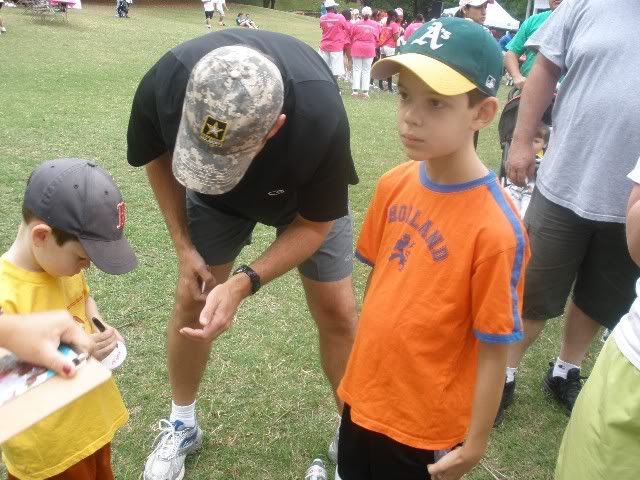 These two boys were walking with their parents, and happily took the buttons to demonstrate that they were there walking for their mother who was a survivor. This little boy insisted that he write "Mommy" on his own button. It was definitely a really sweet moment.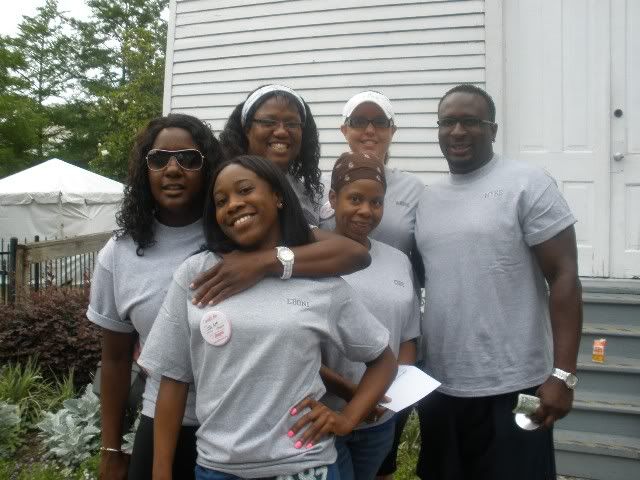 I loved meeting and visiting with this team too. They had really cute team shirts and enjoyed filling out the buttons and telling us about Tish Lee, who they were there to honor. After visiting with more participants, we finally ran out of buttons and sweepstakes forms. After that, we met up with Rachel and enjoyed the warm up with Ronald McDonald doing Tai Chi.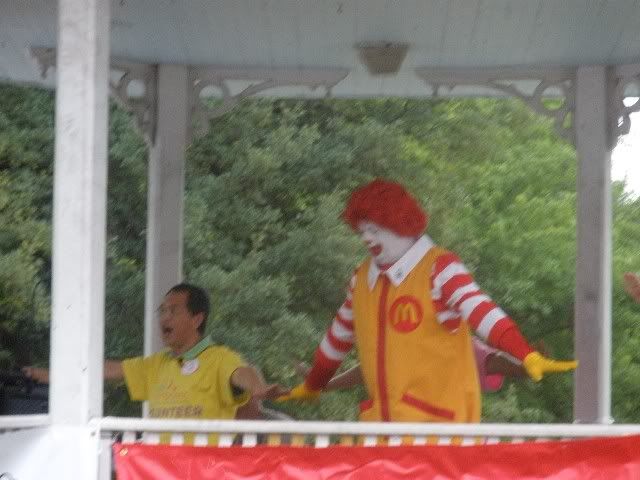 After that, the opening ceremony began and a local DJ starting talking about the walk, the Network of Strength, and the sponsors. I was shocked to be called up to the stage. I had no idea that I was about to be asked to give a speech in front of the large crowd! I definitely do not consider myself a great public speaker, especially when I do not have anything prepared. I managed to say a few words about the ambassadorship, and talked about my mother-in-law, the reason I have become active in events like this one. It was all such a blur, but I have been assured that I sounded calm and composed even though I was tearing up behind my sunglasses. Quite a few people came up to be afterward congratulating me and commenting that I did a great job considering how shy I was.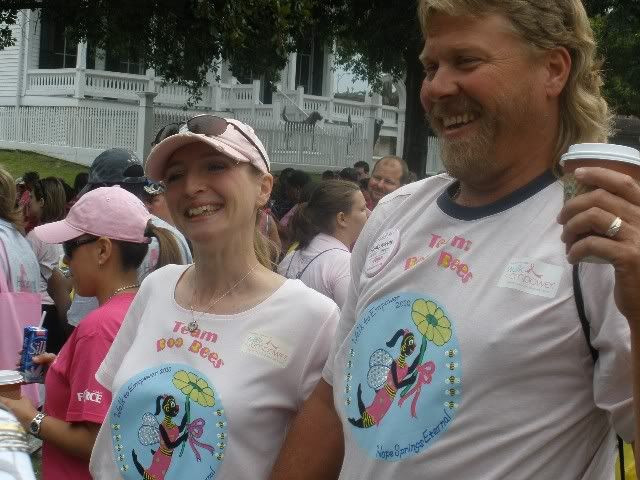 After the presentation was over, I was interviewed by NBC and I talked more about the Beewell for Life program and my participation in breast cancer events. I also met the couple who won the best t-shirt contest: Team Boo Bees! Perfect for Bumble Bee, huh?! Then the walk began!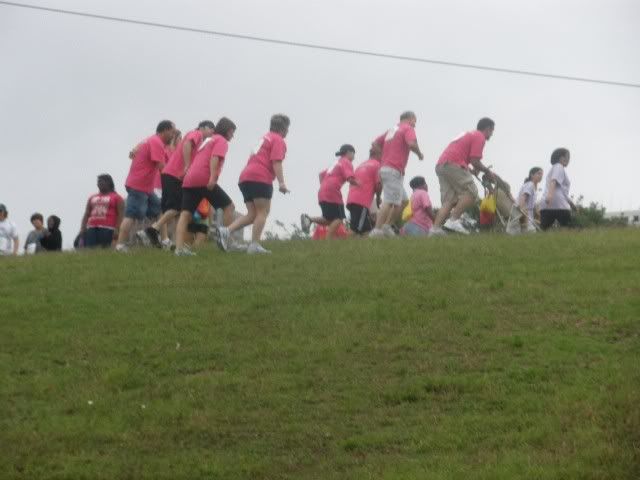 Thousands of walkers, including children and dogs, set off town the trail in Sam Houston park. It was a sea of pink which is always a beautiful thing! Before we knew it we were back at the finish line with a sense of accomplishment for a productive morning having raised money for a great charity as well as made lots of new friends who are also supporters of the cause.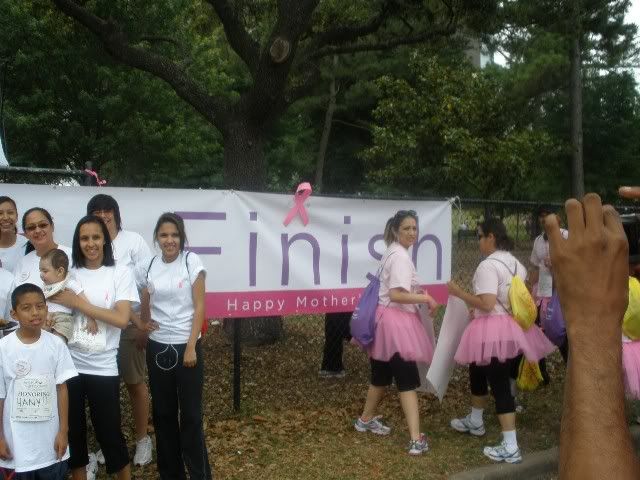 I am proud to have been involved in this event and am glad that I was able to spread the word about the amazing program that Bumble Bee has to raise money for the Breast Cancer Network of Strength. This charity offers those who are going through breast cancer the opportunity to receive 24/7 support and access to information, which is no doubt invaluable during a difficult and scary time in their lives.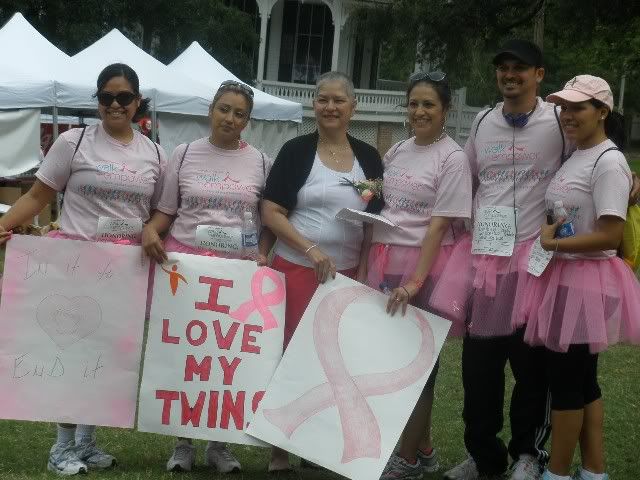 I would like to thank my husband for his support and for traveling with me from Dallas to Houston to participate. I would also like to thank his dad for making a donation to the Network of Strength, as well as Rachel who spent her Mother's Day with us and did a great job fundraising for the cause.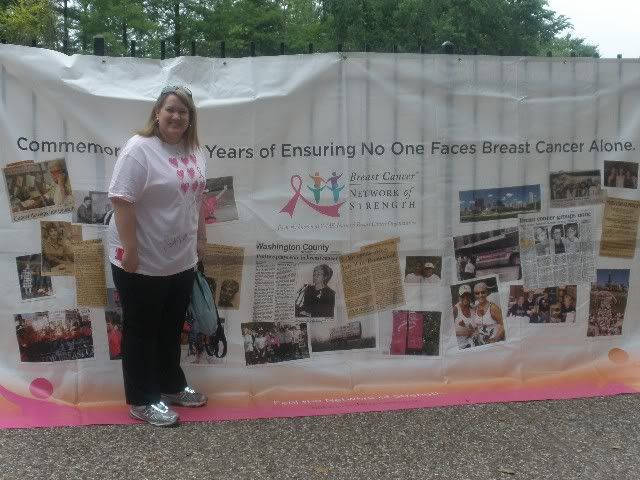 Thanks one more time to Bumble Bee and the Breast Cancer Network of Strength for a wonderful experience and everything they do for those who are going through breast cancer.
Topics: 3 Day | 3 Comments »