« It's my Blogoversary/Giveaway! | Home | Follow Me on Twitter »
By Laurie | February 19, 2009
Have you heard? I guess Jack (as in "the Box") got hit by a bus and is in a coma. Thanks to DVR we aren't really exposed to commercials anymore (even during the Super Bowl), so I wasn't immediately privy. Thank goodness for the Internet, blogs, and Twitter. I am also lucky I surfed into Dollar Tamer where I first read about the promotion for two free Jack in the Box tacos next Tuesday, February 24.

There is a coupon on the Hang In There Jack website that you'll need to print out and bring with you (one per person). I hope that you enjoy! I know that I will. I would never turn down a free lunch, especially now.
P.S. I am a huge fan of their tacos, and D even told me last week that they have now started serving taco nachos. I can't even imagine how bad (i.e. good) those are. Here's a photo of me about to enjoy one of their yummy tacos a few weeks ago. Told ya, big fan nerd.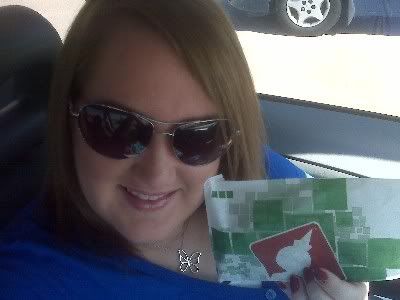 P.S.S. Hang in there, Jack. And get well soon!
Topics: Giveaways | 8 Comments »