By Laurie | December 30, 2013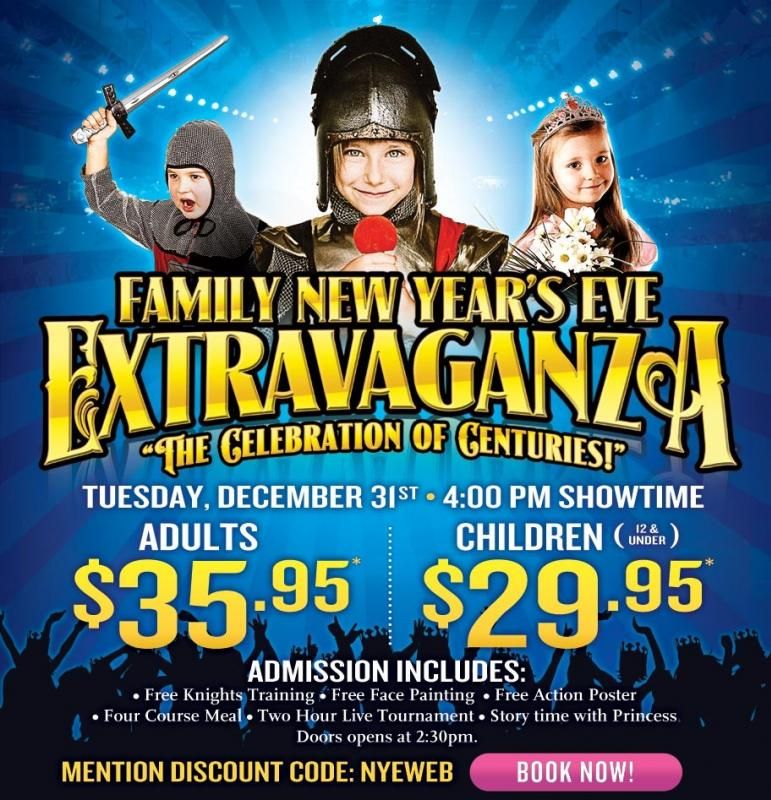 Still looking for something to do with your family on New Years Eve? On December 31 beginning at 2:30 PM, Medieval Times Dallas is hosting a Family New Years Eve Extravaganza. In addition to admission to the castle, the two-hour live show (at 4:00 PM) and four course feast, it will also include a free action poster for each child, free face painting, story time with the princess, and free knights training!
The knight training is a super special opportunity for children age 5-12 to go down into the arena and learn techniques from the knights themselves. I would have been all about this when I was that age (forget being a princess), and I am sure your children would be absolutely thrilled to experience it too. There is limited space available for the knight training, so be sure to book your spot early.
The cost for this special New Years Eve performance and extras is $35.95 for adults and $29.95 for children which is a really good deal considering all of the extras and compared to normal prices during the year. This is going to be such a fun way to spend the night together as a family and make memories your children will absolutely remember forever.
Need more info? Call 1-888 We Joust or visit MedievalTimes.com and use the code NYEWEB to book this special. You should also check out the Medieval Times Dallas Facebook page. They often have giveaways and fun contests for free tickets as well as codes for discount tickets throughout the year.
Disclosure: This post is sponsored by Medieval Times Dallas. I was not monetarily compensated, however I will receive complementary admission. The opinions expressed are my own, as always.
Topics: Holidays | No Comments »
By Laurie | October 23, 2013
Medieval Times Dallas Castle is helping raise funds for Susan G. Komen by donating $5 for every ticket sold through November 30, 2013 using this link: http://medievaltimes.com/komendallas
The knights have also been raising awareness this month. Last weekend they participated in the Dallas Race for the Cure at NorthPark Center. They were dressed in special custom-made pink tunics and handed out free "Joust for the Cure" t-shirts, sunglasses and crowns. While supplies last, Dallas guests are also able to request these items when visiting the castle. I definitely would love one of these to wear during the Komen 3-Day the first weekend in November.

Photo credit: https://www.facebook.com/MedievalTimesDallas
"Medieval Times is proud to support the Susan G. Komen Foundation, the
world's largest breast cancer organization, dedicated to finding a cure
for the disease," said Perico Montaner, president, Medieval Times. "Our
entire company is dedicated to giving back to our communities. We have
great respect for the Susan G. Komen Foundation that funds nearly
2,000 community programs annually in order to help patients, survivors, and their families cope with breast cancer."
We are looking forward to visiting the Dallas Castle again soon. Are you planning on going? If so, don't forget to purchase your tickets here to support Komen.
Disclosure: I was not compensated for this post, however I did receive tickets to return to Medieval Times for a future performance in November.
Topics: 3 Day, Entertainment | No Comments »
By Laurie | October 15, 2013
I am very excited to announce that I have completed the fundraising minimum for the 2013 Komen 3-Day for the Cure! I am so thankful to everyone who has helped me by donating and offering support this year. It has been tough and there have been some setbacks. I am still looking forward to having a completely different experience and meeting new people in a few weeks (November 1-3). I will most likely post pictures here after the event, but for immediate photos and news during the 3-Day you may want to follow my Instagram and Facebook accounts.
Topics: 3 Day | 1 Comment »
By Laurie | October 8, 2013
The wonderful people at Chevy invited me to the State Fair of Texas again this year. We had the opportunity to join them at the Test Track for Chevy After Dark.
The track had changed a little bit from previous years, and actually included a new one for the Silverado pickup too. We were instructed to take our hands off the wheel and even drove up a huge ramp with the Texas Star lit up as the backdrop. It was definitely a good time!
We also drove a new Corvette, but we couldn't ride together since there had to have a Chevy co-pilot in order to drive one of these. They are definitely a pretty car (and super low to the ground), but if I had to choose I'd probably go with the truck which is a big surprise to even me!
They also had a breast cancer Camaro Pace Car on display, so of course I couldn't resist a quick photo opp with it on the way out.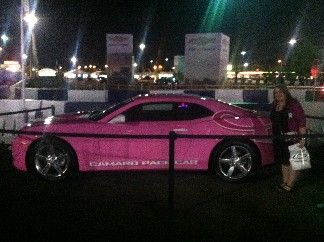 Thanks again to Chevy for this fun experience. Hope to see you again next year!
Disclosure: I was not monetarily compensated for this post. I did receive complementary access to this event and a gift of tickets/coupons to return to the State Fair of Texas on a different day.
Topics: #ChevyGirls | 1 Comment »
By Laurie | June 23, 2013
A few weeks ago Medieval Times invited Dave and I to a media and press day at their ranch in Sanger to celebrate the 30th birthday of the company. It's no secret the Dallas castle is among my very places to visit with friends and family in the area, so I was thrilled to get a behind the scenes tour of both the ranch as well as the castle itself.
We started the tour by meeting at the castle and were greeted by King Carlos and Princess Catalina themselves, as well as trumpeters and a chartered party bus that drove us to the ranch in Denton County. It was a rainy day, but squires with flags lined the driveway to welcome us, as did many of 350 beautiful horses who call Chapel Creek Ranch their home.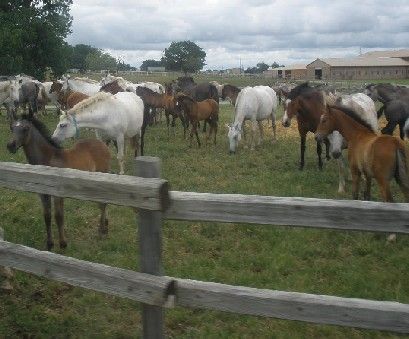 We were treated to a wonderful barbeque meal and even a few items from their new vegan menu. I tried the new Three-Bean Vegetable Stew and it was delicious and filling. I love the traditional tomato soup, chicken and ribs meal, but I could definitely change it up and chow down on some stew next time we visit.

The new vegan meal also includes Fire Roasted Tomatoes served with pita, raw veggies and hummus. I am sure that their vegan customers will appreciate the alteration to the traditional menu too.

After lunch we walked across the property with the horses to the arena where we were introduced to the head knight, Crew Wiard, and head horse trainer, Javier Ortiz.
We were given a live fighting sequence demonstrations from the knights and learned about the different types of weaponry used during battle. Did you know that each knight must pass a physical fitness test and train a minimum of six months before he is able to perform in an actual show?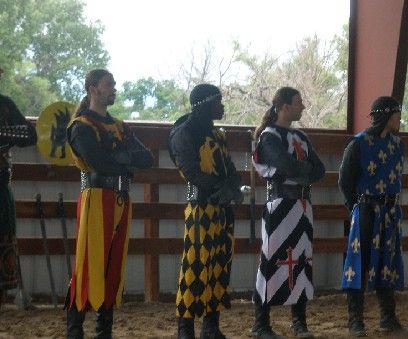 We also viewed a riding demonstration from Victor Lara, the director of Equestrian Management and the execution of a capriole by Javier Ortiz and one of the magnificent horses. We were also introduced to several of the youngest members of the Medieval Times family, some of this Spring's 22 new foals born on the ranch.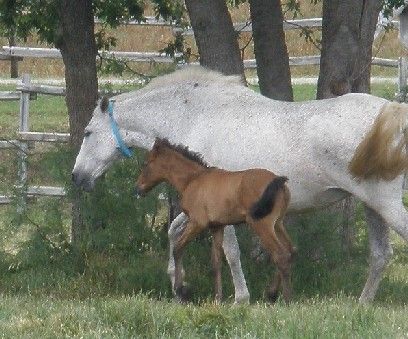 We ended the day after arriving back at the castle with an exclusive tour of the backstage area, a question and answer with the castle's falconer, and a tour of the stables and kitchen. Have you ever wondered how Medieval Times Dallas is able to serve up to 300,000 four-course meals each year (1,000 meals each performance) simultaneously without skipping a beat? We now know their secret.
It was such a fun and magical day and definitely made me wish I had a job at Medieval Times. Everyone is so passionate about what they do, and it is truly contagious. Thanks to Jon Speier, Senior Vice President of the Dallas castle (and of course King Carlos) for the invitation and wonderful experience.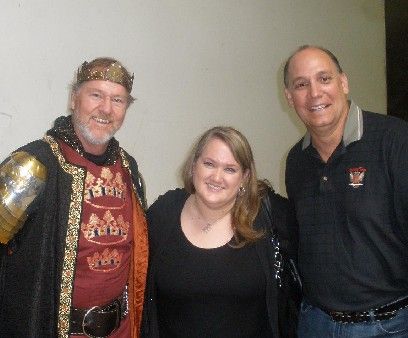 Disclosure: I was not compensated for this post, however I did receive a gift bag at the event with promotional items and tickets to return to Medieval Times for a future performance.
Topics: Entertainment | No Comments »
« Previous Entries